Advanced Myofascial Release
Class for LMT's
Are you approaching the LMT burnout stage?

Does it feel like you are not really helping your clients get better?
Are you seriously considering quitting massage therapy? 
Is your own body getting worn out by the strain? 
It all begins with a FREE
No Obligation
Introductory Class
WHAT YOU WILL LEARN:
My goal is to teach what I know,
what I have learned in 18 years of practice and study of Myofascial Release, Energy Work, Surya Meditation, Facial Distortion, Personal Process Work, Emotional Trauma Release, and personal experience.
---
As a bonus, I will be teaching some highly effective business practices and marketing techniques to make your business more successful.
---
Class Times There will be two different times this 45 minute introductory class will be offered. 
Pick the one that works for you, then send me an RSVP to reserve your time slot.
Class sizes will be small.  This gives you opportunity to decide if you want to learn more, and even if you don't take any more classes, your time will be well spent.
Wednesday, April 24, 7:30 pm
Thursday, April 25, 7:30 pm
As a result of the class work going forward you will know:
Basics, and some little known advanced MFR techniques.
How to sense the flow of energy in the body.
How to connect on a deeper energetic level with the client.
What to look for in assessing imbalances, holding patterns, and blockages in the body.
How to focus your efforts on the root causes, rather than the obvious symptoms.
How to more effectively operate your business, and marketing techniques to make you truly successful. 
Just be forewarned, you will never want to go back to doing regular massage ever again. 
This is much more effective, while being easier on your own body.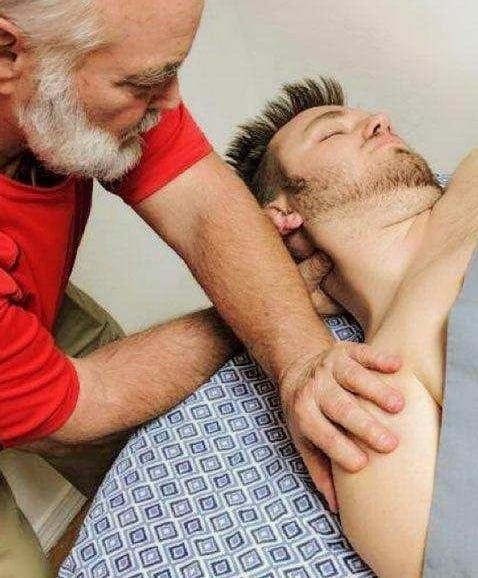 What previous class participants are saying:
" I've been practicing massage therapy for 17 years and have helped a lot of clients, but knew there was something missing from the way I was practicing.  Since beginning this myofascial release class with Curt Redd, my practice has improved dramatically.  I have been able to work more intelligently when treating clients and have reduced the effort that I used to expend when giving massages.  Curt has guided me and helped me to become a more intuitive and centered therapist.  He is extremely knowledgeable and his teaching style is proactive; he helps you learn to feel what is right with the pressure and technique.  I highly recommend Curt's MFR class to any therapist who would like to improve the results they get with clients.  I have also had a lot more re-book with me as a result of using Curt's approach."
Joshua D. Chappell, LMT
MassageWorx, LLC

—————
"It's been great training! I discovered myself in a better and a different way, not only as Therapist but as a Healer. And I want to keep doing it over and over again."  AG.
————–
"You have changed by practice.  Thanks so much for teaching me that method of Myofascial Release." Josh C.
————–
"Myofascial Release is one of the best classes I could ever take. I don't use my body anymore to handle more pressure on my clients.  Instead I use Myofascial Release to go to the deeper layers to target the problematic area on my clients.  Every time I use this technique my clients return and ask me to repeat the same as previous session."  Gloria D.
Send Curt Redd Your RSVP with your contact information.



Please feel free to contact me
by email (massage1008@gmail.com),
by messenger through Facebook
(https://www.facebook.com/TheReleaseConnection/),
by text or cell phone (385-374-9704). 
I would love to answer any questions you may have. 
You can also check out my website at TheReleaseConnection.com