Myofascial Release Course for Licensed Massage Therapists
ELEVATE     YOUR     MASSAGE     THERAPY EFFECTIVENESS     AND     SUCCESS!

MYOFASCIAL RELEASE:  You have no doubt been hearing that MFR is setting the bar for getting lasting results in massage therapy. 
Now is your chance to study locally and learn how to help your clients find lasting relief on a whole new level. 
To See If You Qualify,  Please,
Complete The Application Form
THE CLASSES – WHAT YOU WILL LEARN:
My goal is to teach what I know, what I have learned in 18 years of practice and study of Myofascial Release, Energy Work, Surya Meditation, Facial Distortion, Personal Process Work, Emotional Trauma Release, and personal experience.
There will be ten progressive sections in all, taught in five 4-hour weekly classes. 
---
---
A Sample of the First Class From the Syllabus:
Section One – Introduction
Energy, Energy Work, Connection, Intuition, Empathy, Meditation, Basic MFR, Evaluating
In this 1st introductory class we will be learning:
About the essential element of connection with the client. How to feel or sense what is needed, where they are blocked or tense, not just in the musculature, but in the meridians, the chakras, the general flow of qi (chi) through the body. 
We will learn and experience the basics of meditation, and why it is important to learn to transcend.
We will learn how to evaluate and assess what the body is telling us by its holding patterns to discover what it really going on in the body. So we can learn to work on the root cause of the problem, where we can be most effective, rather than just trying to relieve the symptoms.
Finally, we will learn the basics of Myofascial Release, as taught by the originator, John Barnes. Find out how the John Barnes system differs in critically important ways from the imitators that are springing up everywhere lately.
As a result of this class work you will know:
How to sense the flow of energy in the body.
How to connect on a deeper energetic level with the client.
The basics of transcendental meditation, and how it can affect your spiritual growth.
What to look for in assessing imbalances, holding patterns, and blockages in the body.
How to focus your efforts on the root causes, rather than the obvious symptoms.
What makes the John Barnes Myofascial Release technology different from all of the imitators, and how his philosophy is so much more effective.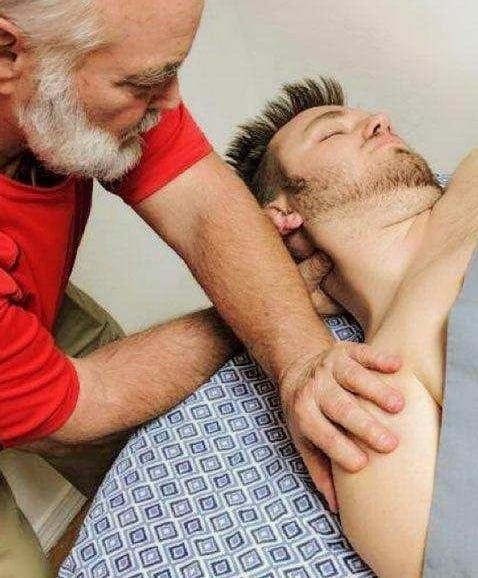 ————————-
And nine more sections, each one packed full of practical knowledge,
and a deeper understanding of this work, with plenty of hands-on practice and interaction to give you the skills you need to truly help your clients to heal long term. 
Just be forewarned, you will never want to go back to doing regular massage ever again. 
This is much more effective, while being easier on your own body.
What previous class participants are saying:
" I've been practicing massage therapy for 17 years and have helped a lot of clients, but knew there was something missing from the way I was practicing.  Since beginning this myofascial release class with Curt Redd, my practice has improved dramatically.  I have been able to work more intelligently when treating clients and have reduced the effort that I used to expend when giving massages.  Curt has guided me and helped me to become a more intuitive and centered therapist.  He is extremely knowledgeable and his teaching style is proactive; he helps you learn to feel what is right with the pressure and technique.  I highly recommend Curt's MFR class to any therapist who would like to improve the results they get with clients.  I have also had a lot more re-book with me as a result of using Curt's approach."
Joshua D. Chappell, LMT
MassageWorx, LLC

—————
"It's been great training! I discovered myself in a better and a different way, not only as Therapist but as a Healer. And I want to keep doing it over and over again."  AG.
————–
"You have changed by practice.  Thanks so much for teaching me that method of Myofascial Release." Josh C.
————–
"Myofascial Release is one of the best classes I could ever take. I don't use my body anymore to handle more pressure on my clients.  Instead I use Myofascial Release to go to the deeper layers to target the problematic area on my clients.  Every time I use this technique my clients return and ask me to repeat the same as previous session."  Gloria D.
To See If You Qualify,  Please,
Complete The Application Form
Contact Curt Redd
Please feel free to contact me
by email (massage1008@gmail.com),
by messenger through Facebook
(https://www.facebook.com/TheReleaseConnection/),
by text or cell phone (385-374-9704). 
I would love to answer any questions you may have.